Solar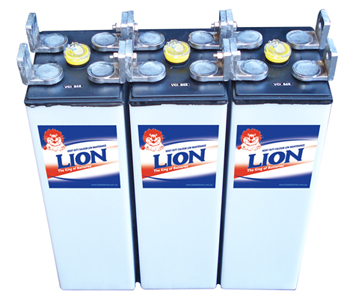 Lion Motive Power caters for the growing Solar market in particular stationary, flooded 12 volt to 48 volt systems consisting of 2 volt cells. Applications include housing and remote power requirements.
Lion branded solar cells form an integral part of any total solar system offered by solar installers and retailers in the market.
No products were found matching your selection.
---
Terminal Configuration Sheet
Disclaimer: Lion Batteries has made a concerted effort to present accurate information, which has been obtained from a variety of references including unpublished information sources and automobile manufacturers. Information presented is to be used as a guide only, and if in doubt, vehicle manufacturer recommendations should be referred to, to ensure correct battery fitment. Lion Batteries believes that information presented is accurate, however disclaims any representation, warranty, expressed or implied concerning battery specifications or fitment, and in no event shall be liable for loss or damage claimed as having arisen from the use of this catalogue.
Always check under bonnet and other clearances to make sure bonnet and other vehicle components do not contact battery terminals.